International Zhineng Qigong
Holistic Health Retreat
Carinthia, Austria
$1250/€1200

Limited to 18 Participants
Price includes Zhineng Qigong Holistic Health Program only. Travel and lodging are not included and must be booked separately.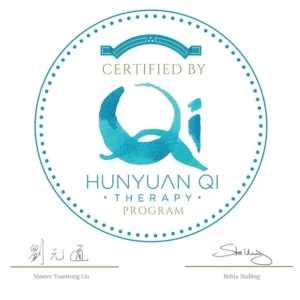 What is Hunyuan Qi Therapy?
Hunyuan Qi Therapy (HYQT) is part of the Zhineng Qigong system. It does not treat only the symptoms of disease but addresses maladies at their root. The approach is not only holistic; it is also scientifically proven. HYQT is recognized in China as one of the most effective natural energy-healing modalities on the planet.
Reyna & Alfred Lerma (English) and Bernhard Jakobitsch (German) are facilitating this retreat and will be collaborating with an International team of Hunyuan Qi therapists under the guidance of Master Yuantong Liu and Britta Stalling. This collaboration is designed to support your physical, emotional and mental health. See Organizers below for background information.
There will be seven healing treatments during this 10-day retreat.
PARTICIPANTS are asked to bring copies of their most recent medical reports such as Ultrasounds, Xrays, CT scans, MRI scans, etc.
Receive Hunyuan Qi Therapy treatments with an International team of therapists under the guidance of Master Yuantong Liu and Britta Stalling. (Master Liu may be required to attend remotely because of travel restrictions. In that case, he will be live on a big screen so teaching and sharing can be experienced as though he were attending in person.)


Practice Zhineng Qigong methods and self-healing exercises which you can easily integrate and practice on your own.


Learn consciousness refinement tools to positively influence health intentions.


Experience an opening of the mind and heart creating a strengthened immune system


Have a dedicated team supporting your intention for holistic health and well-being while effectively activating your own self-healing abilities.


Establish a lasting relationship with yourself, nature, and a growing community.


Have personal time for rest and reflection.
Results of the Holistic Health Retreat in Schönleitn, Austria (May 2022)
Participants
Results Summary
Symptom Improvements
Feedback
Participants
This course was aimed at people who suffer from any kind of symtoms or (chronic) diseases, or who wish to increase their general health and well-being. A team of certified Hunyuan Qi Therapists in co-operation with Zhineng Qigong Master Yuantong Liu and his international team provided a framework of most effective health practices to assist the participants in activating their Hunyuan Qi's self-healing abilities. General information about the participants' health, state of mind and prior self-healing experience was gathered before the retreat. The success of this collaborative was checked through a before and after feedback questionnaire. Participants were able to integrate all knowledge, methods and exercises into their everyday live actifvties after the course.
Results Summary
Symptom Improvements
Feedback
Drone Footage of Carinthia, Austria
Step 1: register and pay for ticket online
International
Zhineng Qigong Holistic
Health Retreat
Contact Our EU Facilitator
Bernhard Jakobitsch
Step 2: secure ACCOMMODATIONS
Naturel Hotel Village SCHÖNLEITN
Dorfstraße 26, Oberaichwald 9582, Carinthia, Austria
+43 4254 2384/info@naturelhotels.com
(
Website
|
Image Gallery
)
To Book Your Reservations: To book your reservations, submit the Reservation Request Form or telephone/email the hotel directly. You will then be contacted to discuss your reservation and make payment. Make sure to indicate the booking code Holistic Health Retreat Oct 2023 so that you receive the price for the accommodations that have been reserved for this retreat.
Accommodations (Includes breakfast & dinner):
Single occupancy – €113
Double occupancy (2 separate bedrooms) – €103
Please make clear the configuration you want above to ensure you have the correct number of separate bedrooms.
Regarding Meal Inclusions: A healthy breakfast plus dinner (3-course menu with a choice of 2 main dishes) is included. Lunch is available a la carte and billed to each participant's account.
Arrival and Departure Dates: The arrival and departure dates for the block of rooms set aside for this retreat are Oct 30, 2023 (arrival) and Nov 10, 2023 (departure).
Step 3: Make Travel arrangements
Flight Bookings & Airport Transfers:
Airport transfers can be booked online directly with the Regional Transfer Supplier.
The airports closest to the hotel are Klagenfurt (35min) and Laibach (60min). Shuttle service from Klagenfurt Airport is organized by the hotel. The charge is €114 per ride (can be shared) and will be charged directly by the taxi driver.
Transfer from Villach railway station is free of charge between 8am and 7pm. The charge for pickup outside that time is €28 per ride. Transfer from Faak am See railway station is free of charge.

When working with a travel agent, make sure your flight is refundable or re-bookable in the event that you are unable to travel/attend due to travel restrictions, local event restrictions or other unforeseen circumstances.
Entry Requirements to Austria and Venue Requirements (links)
With an open heart and mind, control of one's own consciousness is not only possible, but a logical outcome. A properly set healing intention for yourself and others is already the start of a healthier and more authentic life! We must learn to control our thoughts and know how to activate the Hunyuan Qi for holistic health promotion to heal ourselves and others to live our best life. — Master Yuantong Liu

BERNHARD JAKOBITSCH
Facilitator

Nature healing therapist specialized in TCM, Darkfield Microscopy and European traditional medicine, Certified Zhineng Qigong teacher, Hun Yuan Qi therapist, and Qi Core Improvement trainer. He is the founder of QiDetox, holistic regulation therapy, 3 years Zhineng Qigong trainer program in Austria and QiTrainig Austria. He started with Qigong and other energy practices at the age of 11.

Throughout his life as a trainer and therapist, he supported many on their journey to a better, healthier, and more joyful life. He believes that everyone can improve their health and can achieve the life they really want to live.
REYNA LERMA
Facilitator

Reyna studied Zhineng Qigong for 14 years. She lovingly shares the wisdom of the practice with her students, readily supporting their intimate exploration of personal health and healing. Reyna firmly believes we each have a vast amount of energy readily available to us at any moment through any circumstance which is the catalyst for healing.

Reyna is the co-owner of Present Moment Living® LLC, and QiCore® Inc. She currently hosts Zhineng Qigong classes, workshops, and retreats worldwide, often coordinated with other certified international instructors. She also continues to offer private instruction and individual Hunyuan Qi Therapy to clients who request those services.
ALFRED LERMA
Facilitator

Alfred Is a Certified Zhineng Qigong Hunyuan Qi Therapist. His focus is on cultivating mental awareness and conscious intention to activate and facilitate healing throughout the body. Alfred has passionately studied self development with the intention to live a more joyful life and to share with other's how to do the same.

Alfred is the co-owner of Present Moment Living® LLC, and QiCore® Inc.
MASTER YUANTONG LIU
Zhineng Qigong Master

Master Yuantong Liu has been engaged in Zhineng Qigong Hunyuan Qi Therapy healing and teaching for more than 30 years. He successfully accomplished the rigorous teacher training in the ZQ Hua Xia Qigong Center, known in the west as the first medicine-less hospital of the world (near Beijing) under the guidance of Dr. Pang Ming. He has supported the healing of thousands of people. People have healed from mental, chronic and terminal illnesses. He teaches the principles of Zhineng Qigong Healing in his own Qigong Center in China, as well as in Europe, the USA, Mexico, South Africa, Indonesia and Malaysia. His commitment to traveling globally is based on his vision to share the wisdom, power and benefits of Zhineng Qigong Hunyuan Qi Therapy with as many people as possible.
BRITTA STALLING
Zhineng Qigong Teacher

Britta's passion for Hunyuan Qi Therapy is the driving force for supporting people around the globe through one-on-one encounters and sessions, Zhineng Qigong / Hunyuan Qi Therapy workshops and retreats and the international Hunyuan Qi Therapy program.

Britta is valued by her clients of various nationalities and cultural background for passing on her knowledge and experience in an authentic and inspiring way. The Hunyuan Qi Therapy program is a perfect place for her to fulfil her mission to share the wonderful Qi medicine approaches and tools with amazing people from around the world.